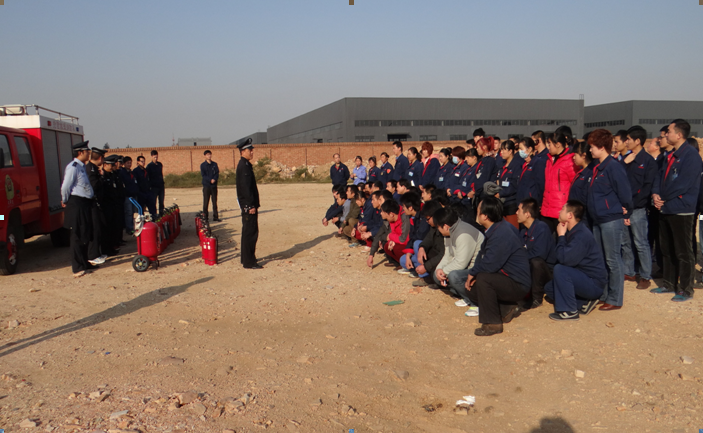 Improve Security Awareness, Eliminate Potential Safety Hazard
—Annual Spring Fire Drill in 2015 Held by Shijiazhuang Yujing Glass Co.,Ltd
【Supplied by Shijiazhuang Yujing Glass Co.,Ltd of Hebei Yingxin Group】On April 19th, 2015, facing the breeze after the rain, Shijiazhuaung Yujing Glass Co.,Ltd organized two fire fighting safety training led by Security Department and Human Resource Department, the drill started at 8: 30 a.m.-9: 30 a.m.,16: 30 p.m.-17: 30 p.m. respectively and finished successfully at the empty field on the west side of the company park shed.
The fire drill aimed at the characteristics that fire accidents easily happen because of the strong wind in spring, the drill fully implemented the company's fire policy of "Prevention first and combination of fire prevention and fire fighting", to enhance safety awareness of the staff and improve the ability to
handle early fire. The company organized a total of 168 persons to participate, and invited people of County Fire Brigade to guide and of Public Security Bureau in Development Zone to have site observation. The drill totally used one fire support vehicle, 120 dry powder and carbon dioxide fire extinguishers, 2 dry powder gun. The fire extinguishers used in the drill were all about to be repaired in a short time, so that employees could master the operation of the actual fire extinguishers without wasting resources. The main contents of the drill were: the conditions of fire accidents happening, the classifications of fire accidents, several methods of fire fighting, the application range and methods and maintenance of fire extinguishers, self-help common sense,etc. By Chief of Security Department Ren Yanjie to give a lecture, the site drill was divided into four groups, each group had a fire source, by two security personnel to guide and instruct fire fighting operations respectively.
This drill strengthened the staff's actual operational ability for fire fighting and laid a good foundation for fire prevention and eliminating potential safety hazard.